President's Dinner
March 23, 2019 @ 6:00 pm

-

9:00 pm

|

$42.00
Enjoy a buffet dinner prepared by the University of Alberta Faculty Club in the Saskatchewan Room and hear a talk by Dr. Richard Summerbell on "A Fungus that Thrives on Whiskey, Rum and Cognac in the Air".
Buffet includes the following:
Wild Mushroom Chicken (GF)
Porcini Mushroom Pasta (Vegetarian)
The Cream of Mushroom Soup (Vegetarian)
Various sides, including rice, potatoes & salads
Assorted desserts
Entirely GF Menu includes:
Garden Salad with Balsamic Dressing on The Side
Gluten Free Tuscan Penne with Herbed Tomato Sauce & Wild Mushrooms
Fresh Fruit Plate for dessert
Parking
Members are respectfully reminded that their parking decal is only valid in V-lot between 11:00 a.m. – 2:00 p.m. and after 4:30 p.m. Overflow parking is available in the Windsor Car Park, members and guests must purchase parking tickets. For more information regarding rates please visit: 
https://www.albertamushrooms.ca//asinfo.ualberta.ca/en/ParkingServices/Visitor-Parking.aspx
​
With the goal of keeping parking spaces free for our lunchtime members and guests, any vehicles parked in the V-Lot outside of these hours without a valid dispenser ticket will be ticketed by Parking Services.
Whiskey, Rum, and Cognac-loving Fungi
In the early 2000's, James Scott was called in by the Hiram Walker Distillery to investigate what the apparent fungal problem was that was causing all the houses and other structures in a 500m to 1 km radius around the whiskey storage warehouses to turn black. At first, he thought the dark fungus involved might be an unknown organism, but then he discovered it had been known from Cognac, France, in the 1880s, and then essentially forgotten. Later investigations,  sometimes propelled by semi-secretive mass homeowner lawsuits in the USA and the UK, showed that the 'whiskey fungus' was to be found worldwide – but only where some artificial process was releasing tons of ethanol into the air. It had, and has, no known natural habitat – which is impossible, but so it stands at the moment. A new genus, Baudoinia, was described, named after the early researcher who described it in Cognac. Dr. Summerbell was sent to Cognac to collect a new specimen to represent the 'type' of the name. Some snaffling of blackened, dead bush twigs around a cognac warehouse hit paydirt. More recent investigations have found him sampling the stone on the Kentucky state capitol and scraping black fungus off over 100 baking-hot corrugated tin roofs near the Captain Morgan rum warehouse in St. Croix, U.S. Virgin Islands, taking a two-day break for Hurricane Irma to pass through. Somehow alcohol never fails to be linked to drama, even when fungi are involved.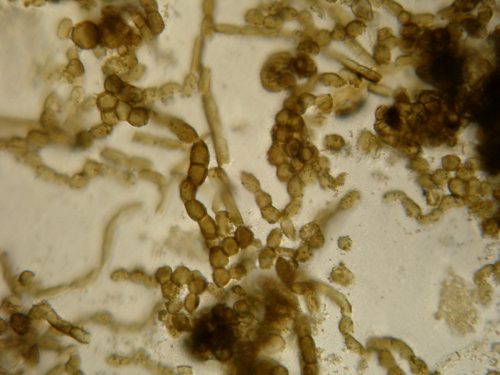 Please purchase tickets by March 19, 2019
Share This Post, Choose Your Platform!