2019 Annual General Meeting – Lunch
March 23, 2019 @ 11:30 am

-

12:30 pm

|

$20.00
Enjoy a buffet soup and salad selection prepared by the University of Alberta Faculty Club!
Selection includes:
Fresh Buns
Cream of Mushroom Soup (GF, Vegetarian)
Chicken Rice Soup (Gluten Free, Dairy Free)
Coleslaw (Contains gluten)
Mixed Greens Salad (Gluten Free, Dairy Free)
Caesar Salad
Location: Saskatchewan Room
Parking
Members are respectfully reminded that their parking decal is only valid in V-lot between 11:00 a.m. – 2:00 p.m. and after 4:30 p.m. Overflow parking is available in the Windsor Car Park, members and guests must purchase parking tickets. For more information regarding rates please visit: 
https://www.albertamushrooms.ca//asinfo.ualberta.ca/en/ParkingServices/Visitor-Parking.aspx
​
With the goal of keeping parking spaces free for our lunchtime members and guests, any vehicles parked in the V-Lot outside of these hours without a valid dispenser ticket will be ticketed by Parking Services.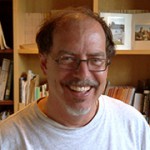 We welcome Dr. Richard Summerbell, Canadian mycologist from the University of Toronto's Dalla Lana School of Public Health as he presents on the following:
Why Do Humans Have So Many Fungal Skin Rashes and Why Are the Fungi Involved so Darn Pretty in Culture?
Many people in biology have an eye for things that are beautiful, and, in the medical laboratory, this tends to lead people to want to work at the Mycology bench. The apparently yucky dermatophyte fungi that cause athlete's foot, ringworm, and much of what we call 'jock itch' grow out as stunningly attractive red, yellow and cream-coloured colonies with dramatic spores, intriguing spiral barbs and eccentric sex lives. Working with them is so addictive that it's all managers can do to get techs to go back to the bacteriology bench. These (the fungi, not the workers) are mysterious organisms. Most animal species, or even whole family-level groups like 'the cat family' (Felidae), have at most one dermatophyte species that regularly colonizes them. Humans, meanwhile, have at least nine ringworm fungi specifically adapted to grow on us! What made our species the Galapagos Islands of the ringworms? Investigation showed that our habit of domesticating different animals – either deliberately, like the horse, or accidentally, like the rat – caused us to collect new ringworms that adapted to us by genetically host-jumping. In addition to scratching our heads, they do give us a lot to think about. Such as "why are they so brightly coloured in culture when they are never colourful in their normal growth on skin?"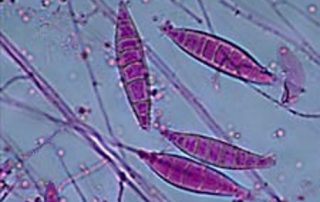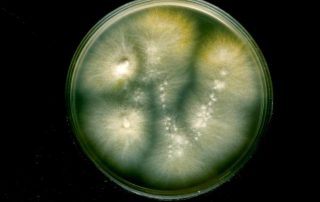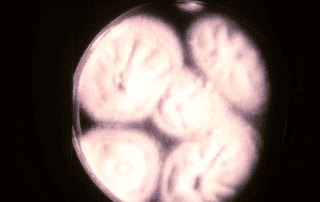 Please purchase tickets by March 19, 2019.
Share This Post, Choose Your Platform!