Alberta Mycological Society Graduate Award
With the goal of enhancing fungal research, the Alberta Mycological Society (AMS) is excited to announce the Alberta Mycological Society Graduate Award with the University of Alberta (U of A).  This award is to be given to a student registered in a master's or doctoral program with a focus on Fungal Biology. 
Beginning the 2021/2022 academic year, an incoming or existing MSc or PhD student is selected based on academic achievement and interest in the field of mycology/fungal studies as demonstrated through the student's research project.  The award has been set at $2,000 per year.
The AMS is a non-profit organization committed to learning about mycology in Alberta and providing knowledge and great mushroom foray experiences to the public. This graduate award was proposed in 2020 by Bill Richards, who is a long time AMS member, a previous Foray Coordinator and has provided many years of service on the AMS Board. Bill had made immense contributions to major AMS events, such as the Annual Mushroom Exhibition at the University of Alberta Botanic Gardens, by collecting and identifying many, wonderful diverse fungi specimens for the public.
With the creation of this award, AMS wishes to inspire university students to pursue fungal research to foster an appreciation for fungi and their role in our ecosystem. The AMS hopes that many more people will become just as enthralled and interested in mushrooms as we are!
AMS has committed to funding this award at $2,000 per year for five years.  If donations towards this award exceed $50,000 in five years the funds will be placed in the Endowment foundation at the U of A enabling this award to be presented into perpetuity.  So, we encourage all members to donate.  Your donations are made directly with the U of A and a Taxable donation receipt will be issued by the U of A.  If the Endowment produces more than $2,000 per year there will be more than one award presented.
Click here or the picture of Alberta's Leccinum boreale mushroom below to donate!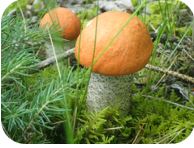 The use of the university logo is done with the permission of the University of Alberta.