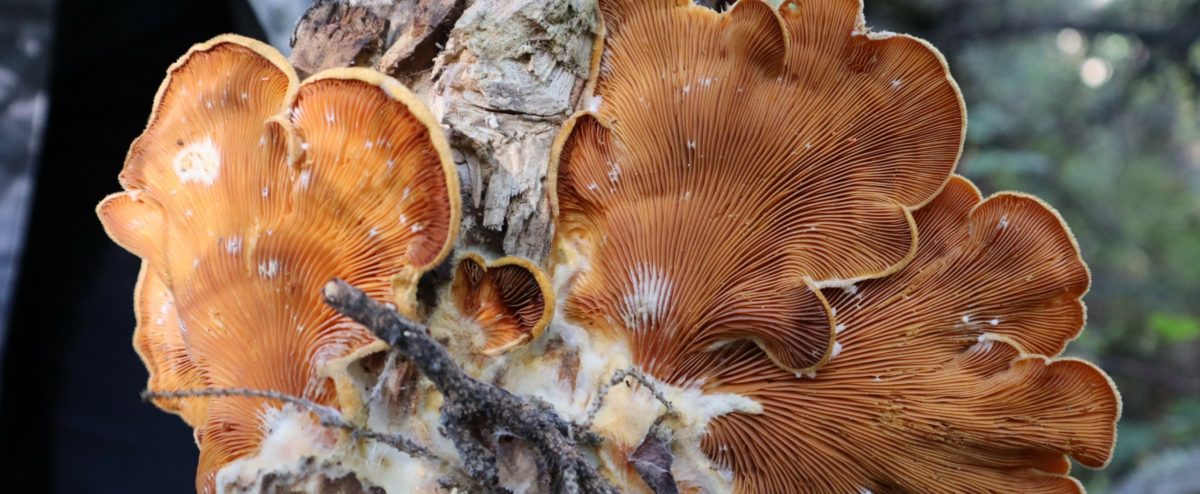 2022 Great Alberta Mushroom Foray (GAMF)
Summer has hit us full blast, and many regions have seen an abundance of mushrooms this year!
Our annual Great Alberta Mushroom Foray (GAMF) is the AMS's signature event held typically every September long weekend. GAMF combines citizen science with our shared culinary interests in fungi. Fungi are gathered using formalized collection protocols and later identified by participants.  Some participants are learned mycologists, while others are Society members; together we amass the typical fungi found in the varied (and not so varied) ecosystems in central Alberta. GAMF is an amazing opportunity to connect with the outdoors, listen and watch presentations, and participate in mushroom-related activities especially for people new to fungi and avid nature enthusiasts. We buckle down with fellow nature lovers to work at identifying the mushrooms we find. GAMF is crucial in helping us to identify and monitor what kinds of mushroom species are growing in Alberta, and we often find new, rare and exciting species.
GAMF will be held in the hamlet of Mulhurst Bay at Pigeon Lake.  The site has dormitories separated by gender, a large and small meeting room, sports fields, shared fire pits, a gazebo, and likely lots of fungi given the rains we have had so far in Alberta.  The weekend starts with two pre-GAMF forays followed by GAMF registration, a meet and greet evening social kick off event on September 2. GAMF continues with two full days of forays and identification. The event closes the morning of September 5, 2022, with an Expo-like display.
Check out our events to register for GAMF!
Location and Host: Camp St. Basil, Pigeon Lake (Mulhurst Bay), Alberta
Organizing Team:  Karen Slevinsky, President AMS and the AMS Board
Dates:  Friday, September 2 (6:00 p.m.) – Monday, September 5 (1:00 p.m.)
Draft Schedule:
Friday, September 2, 2022
Registration opens at 6:00 p.m.
Evening social and Orientation Information – bring snacks to share
Saturday and Sunday, September 3 & 4, 2022
Mushroom Identification Course by Martin Osis
Culinary Mushroom Grow Blocks by Candice Cullum ($15)
Forays to special permitted nearby sites
Identification
Lectures from local, national and international experts
Evening socials
All meals included
Monday, September 5, 2022
Open House of Identified Fungi
Mushroom tasting event
Breakfast
Registration: Opens Wednesday, August 3, 2022
Accommodations: Camp St. Basil
Dormitory-style (separated by gender)/Campsites (5 unserviced sites available).
Please bring your own sleeping bag, pillow, and towel in addition to your personal belongings.
Important: Please let us know via email (contactus@albertamushrooms.ca) if you would like to reserve a campsite.
470036 Range Road 281
Mulhurst Bay, AB T0C 2C0
Phone: 780-389-3877
Directions – Camp St. Basil (campstbasilsociety.org) or
Amenities: Boathouse and canoes, shared firepit, gazebo, sports fields
Find more information about Camp St. Basil here.
Meals: Meals are catered and included in the registration cost. Please let us know if you have any dietary restrictions when you register.
Cost: $230/member
It is an all-inclusive fee; it includes presentations, forays, meals, and accommodation (dormitory/campsite).  This fee has been subsidized by the Alberta Conservation Association Conservation, Community and Education Grant we received this year.
Additional Registration Fee is $15 if you are registering for the Culinary Mushroom Grow Blocks by Candice Cullum scheduled on Saturday.
Children 5 and under are free.  Students 6 and older will receive a refund of 50% of the registration fee at the registration desk. If you are a student, please show your current student identification at this time.
How to Register
GAMF registration is open to AMS members. Log into your AMS account and check out our Events page or click below.
Deadline to register is August 30, 2022. Book your tickets now to reserve your spot at our annual signature event!
The health and well-being of all our members are important to the AMS. We encourage all our members to follow Alberta AHS guidelines with respect to COVID. We want everyone attending GAMF to feel safe and comfortable, so we kindly ask all participants to attend only if they are not sick. We will provide refunds for cancellations made prior to September 3 to any members who test positive for COVID. During the event, hand sanitizer and masks will be made available.  ​This is especially important this year because the accommodations include dormitory-style sleeping arrangements. 
Culinary Mushroom Grow Blocks Workshop
by Candice Cullum
Growing mushrooms at home simplified!
In this workshop we will be covering the simplest, most cost effective methods of creating your very own culinary fungal grow blocks. We will start with grown blue oyster grain spawn. Using a steam pasteurization method we'll use hardwood sawdust and a supplement to create mushroom blocks to grow either inside or out.
The AMS is proud to have an amazing leading foray leader like Candice in the Red Deer region. Anyone who has joined her forays has found her to have a wealth of fungi knowledge! Here's some information about Candice!
My name is Candice Cullum. I'm a fourth generation farm kid so I tend to tackle my projects from a "make it work with what I have" mentality. I've spent many years volunteering my time with the Alberta Mycological Society, and wild fungi are my true passion. I started growing fungi as a way to fill the long winter hours and lessen the sadness caused by lack of foraging for fungi in the wild. Focusing on their crafty diversity, I've enjoyed growing all sorts of fungi! Learning first hand how mycelium behaves under certain conditions has helped grow my understanding of wild fungi immensely!
Check out photos from GAMF in previous years!